The Naxi Guniang
For T and S (2014)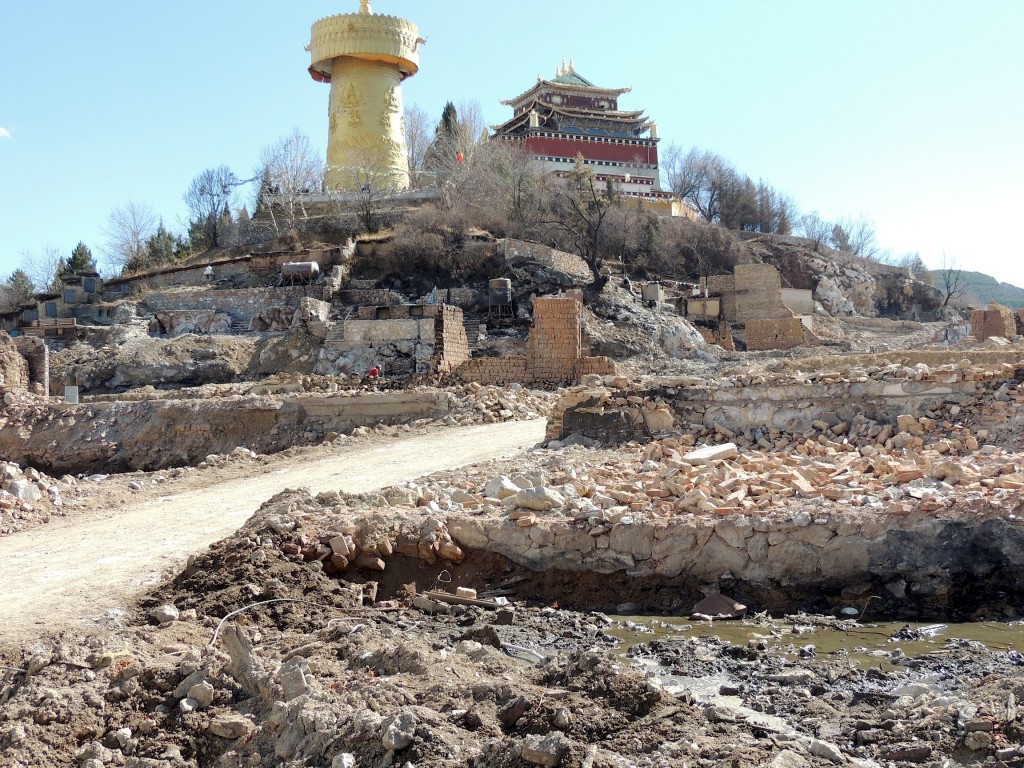 No need to rush ah, said Tonton, the young woman from Guangzhou, in that easy affectation of a Southern tourist. Under the knit cap I wondered what her hair looked like. We sat with seven others around a long table in a youth hostel whose rustic lounge looked out on what should have been the Meili snow mountain, but with night's arrival it was a black void and moreover piled helplessly with thick cloud cover.
I had bought a small flask of cheap liquor, it was out on the table but few of the others would help me empty it. Tomboy, they joked.
I watched as they kept track of each other's reactions and with those in the group on different legs of their journey, or still back in their departure city, with a mobile app called "Guangzhou always on the road." I asked her why they all had external battery backups laid out on the table beside their phones and why they didn't charge them directly in the sockets, and she pointed out how far the sockets were from the table. Intercourse sped between them on short messages, photographs and feedback, and tender chats conducted in convenient bursts, weaving nests of reliable and evidential memory.
Tonton held up a ridiculous plush donkey to her cheek and asked the boy across from her to take her picture.
One of her friends (I guess that was their relation), Jason, recounted how a Spanish girl he had met in a bar in Shangrila had given him the Spanish name Federico, which could be rendered as either Fede, as Rico, or even as Kiko. In their brief acquaintance she had taught Jason how to take photographs, not I.S.O., depth of field and whatever, he said, but how to take photos to express his feelings. His smartphone served the purpose.
Others had first tier Canons and Nikons, like the guy from Xi'an wearing a do-rag, who later showed a group of us his exquisitely sharp images of a sky burial somewhere in Tibet. A crowd of tourists watching corpses being cut into pieces gradually dispersed as the stench filled the open air, and a multitude of vultures poured down the hill.
The forecast offered no breaks in the near future, there would be no golden mountain to photograph at dawn, seemingly the goal of everyone who had spent the night in this draughty place. So the next morning, declining Tonton's pleas for leisure (interrupted by her manga-esque glee at having snow land on her face), the group would splinter toward different destinations, all sporting brightly coloured Patagonias and Ozarks, like the bubble down missionaries of optimism. Some would push on to the misty mountain yak pasture. One girl was on her way to Lhasa. I was headed back down to Lijiang to catch my return flight to Beijing. There weren't really any good bars left in Shangrila after the Old Town burnt down, though it was closer.
My plan had been to come down to Yunnan with my girlfriend for a 2-week trip to decide whether after these months we should break up or stay together. But once we got on the circuit it was clear which direction this was going. We would meet all these young people on their way to find something, in pairs or humping their bags solo, having just quit their jobs in Shanghai or Shenzhen, and I realized the world was much bigger than the petty stuff we had been arguing about. She was cool, she was very funny, but she was a child, and not the free kind. The kind that refused to be open about things, the kind that resented my intelligence.
We found ourselves talking to these other people rather than each other, and of course they didn't suspect we were a couple, and anyway to them the whole thing was about getting more open.
So without even discussing it, a kind of mutual decision was reached that she would head south with some girl from Tianjin and I would head north, with a mildly annoying guy named Liu with dyed orange hair from a farming village in Guangdong who kept touching my leg. At the hostel, I opted to bunk with an old German couple who snored, as the beds in his room were suspiciously left vacant. Listening to their noses whistle cheesy breath into the crisp pitch, I had to be honest, I was lonely.
We descended along the winding pebble-strewn road, sometimes getting lifts from labourers on their way to the sites of landslides, or taking rides in mini-vans with flip-haired youths crooning unabashedly along with Tibetan bedroom techno. At first I tried to continue my thesis research into ethics and subjectivity in the car to avoid Liu's advances, with notes sliding across the page as we lunged over potholes, sometimes so violently I had to look out the window. The river gorge faced onto immense walls of mountains opposite that wrinkled and enfolded unmelted snow and vast homogeneities of trees, whose inhuman peaks we could gaze upon and yet never visit, and small villages encrusting the parsimonious cliff sides, their lifelines hanging from wiry goat paths. Liu began to grow on me. After all, we were all here for discovery, and he was kind of charming in a simple, enthusiastic way, and good for a laugh. I didn't want to lead him on, but I found out it didn't matter, he was only going with the flow. He had been messaging people all over, keeping his chips in play across the province.
After a day and a half, we arrived to Lijiang, having decided to hit the town that night. We chose a dance-show bar on Xinhua street in the Old Town called Naxi Guniang Pub, which was a must-do on Liu's app. We were welcomed Naxi-style and made to sit down and order a case of beer. First three old minority guys came out and played a few rounds of ancient music on their horse-head fiddles, then a small troupe of old women did a traditional dance. Finally the floors lit up and the lights dimmed and a shaman came out wearing a goatskin jacket and colourful headdress and started to chant. Lasers drew their fire up through the ambient smoke and convulsed around the bar and the shaman began to twirl around the space to dance music. And this didn't end. Liu had convinced some of his subscribers to congregate with us, and we had moved on to white liquor. They arrived wearing camp cowboy hats branded with Chicago Bulls logos and neon ribbons braided in their clean, silky hair. Some of them were even Beijingers, but from parts of the city I had never been. I was glad, because this was the kind of thing I just wouldn't get up to in Beijing. Everyone started to look attractive. I kissed Liu across the table, and he smiled while he blew some smoke out of his mouth, everyone laughing, a guy patted him on the back. The shaman was invited over for a drink. He was actually a local, unlike most of the staff at the bar, and operated a horse-riding service in the daytime, and despite all the artifice he had to put on, he was very easygoing. He invited us all to his house next pig-slaughtering season, and he and Liu joined each other's networks before we all left.
I was going to ask him to put out his cigarette, but instead I asked him for one. He was laughing at something on his phone. We shared a bed because it was cheaper, there was nothing else going on. I was more like his sister by this point. I felt something had changed. I was a bit drunk, but I don't think it was only that. Tonight I had decided to drop out and move to Shanghai. And to buy a smartphone.